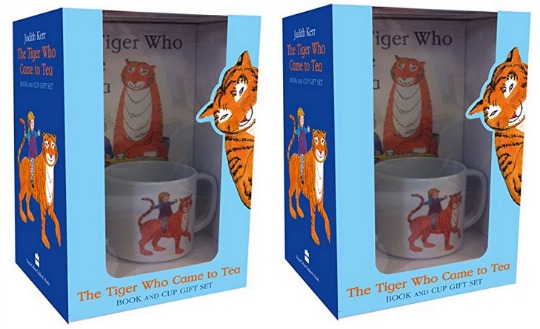 What a great buy this is! The Tiger Who Came To Tea Book & Cup Set is only £5 from Amazon. The book on it's own is £5.99 at Mothercare.  What a great present for a little one's birthday or Christmas. The set comes in a nice box so it's just screaming out to be given to a small person. As always, we have no indication of how much stock Amazon have this item, at this wonderfully cheap price, so get in there sooner rather than later, to avoid disappointment.
The Tiger Who Came To Tea is a popular story in my house. It seems we aren't the only ones to like it either, as this book is going strong after forty years from it's original publishing date. The illustrations are great and really capture the feel of the story and I reckon that's what excites little ones about this book.
I am not sure if it's a ceramic or melamine cup. Hopefully it's ceramic, as they tend to look nicer, but I guess melamine is much more child-friendly.
The Tiger Who Came To Tea Book & Cup Set is £5 below the Amazon threshold for FREE Super Saver delivery, so why not buy two or grab another one of Judith Kerr's famous children's books Mog the Forgetful Cat* for £5.24.