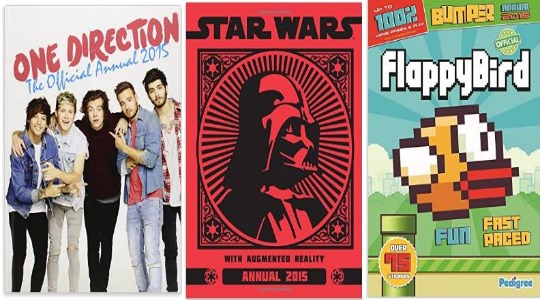 Children's Annuals make an easy stocking filler present, and as value for money they usually work out really well. Several stores have been running a 3 for £10 promotion on some of the most popular titles, and The Book People had a few for £2. But now Amazon has started the big price drops, and you can now get the Star Wars Annual, Flappy Bird Annual or One Direction Annual for £1!
These are the only ones I can find at this price at the moment, but I would not be at all surprised if other 2015 Annuals follow.
There are also reports that in store at Sainsbury's several of the 2015 Annuals are scanning at £1, even though the shelf still says a higher price. These include Angry Birds, Barbie, Minnie Mouse and Hello Kitty, as well as the Star Wars one on offer at Amazon. If we hear more about that we will let you know, but it's definitely something to bear in mind if you're near a Sainsbury's this weekend.
Amazon offer free delivery to Prime members, or when you spend over £10, otherwise charges apply.
Thanks to oB765o , crystaleve and Zampone @ HUKD.