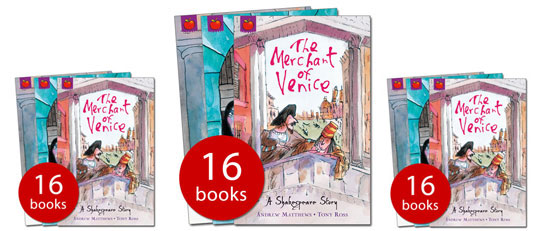 I'm rather fond of Shakespeare, I love his stories and I love the fact that you can grab this Shakespeare Story Collection for just £9.99 from The Book People.
To buy, or not to buy shouldn't be your question when it comes to this Shakespeare Story Collection - 16 of William Shakespeare's most famous plays and stories have been rewritten especially for kids.
The illustrations have been drawn by Tony Ross whose style you'll definitely recognise if you have lots of children's books in your house - he's a bit of a modern day Quentin Blake.
If you switch off when you hear the name Shakespeare because you had to read one of his plays during English Lit' at school, now's your chance to find out what the plays were REALLY about - lots of people over at HUKD have ordered this Shakespeare Story Collection for their kids and admit, quietly, to looking forward to all the Shakespeare plays and stories being made clear.
I think this is an awesome book deal and the free delivery code DEC11FREE still appears to be working, if it doesn't by the time you order your Shakespeare Story Collection then a single item delivery charge of £1.95 will apply.
Thanks to Guswold at HUKD