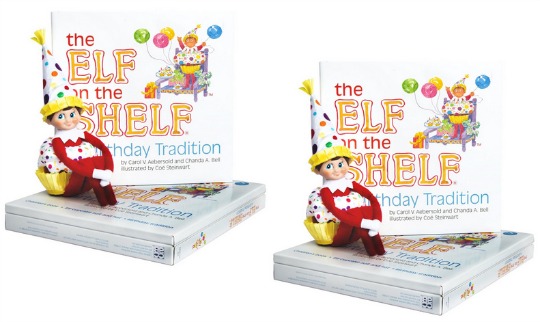 This blog is going to make your day and change your life. I know you are laid in bed every night fretting about everyone's little pal Elf on the Shelf disappearing soon. What if I told you that he doesn't have to get tucked away for a full twelve months? That freaky little imp can terrorise you and the kids all through the year.
I have some tremendous news to share with you. Elf on the Shelf: A Christmas Tradition has a sequel and it can be used all year round. Elf on the Shelf: A Birthday Tradition, is the next stage for your little Elf. It is hard to obtain in the UK, but Amazon has two used ones for sale and you can get them from the United States via eBay sellers, which to be honest works out as the cheapest option.
What do you get? You DO NOT get another elf, you just have to use your Christmas one. You do get a rather spectacular cupcake outfit with matching hat, and a new story book to accompany the whole magical experience.
I am not against Elf on the Shelf, in fact our little Elvis has brought a lot of fun and hilarity into our home. Also, I have noted a MASSIVE improvement in our children's behaviour. I can't help but think that this might take the shine off of the Christmas Elf on the Shelf experience.
What do you think of this addition to the traditional Elf on the Shelf story? Let us know over on our Facebook page.