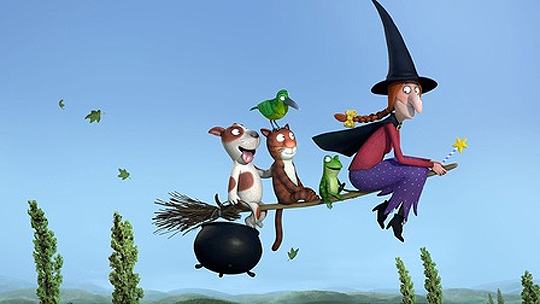 Amazon have some discounts on various Room on the Broom bits and pieces at the moment.
I suppose it's conceivable that some people haven't heard of, or read, Room on the Broom - it's another GREAT story by Julia Donaldson, the creator of the Gruffalo (he's overshadowed her other books in the public consciousness somewhat!) and, along with the Snowman and the Snowdog (wow, I can't wait to settle down and watch that!), it's this year's must-watch animated offering.
I could narrate the entire story for you here - I won't - but essentially, a witch and her cat are zooming around happily on their broom one evening when the wind blows the witche's  hat off. A dog brings her hat back and he joins them for a ride on the broom.
During the course of the evening they pick up lots of other passengers but then the broom snaps and the story gets a bit tense from this moment forward.  I won't spoil the rest of the story for you - if you don't already have this excellent book in your collection then I recommend it!
If you do already own Room on the Broom then there are various other things, such as a Room on the Broom colouring book, a Room on the Broom sound book, and activity book and a song book with CD, to add to your collection and go along with watching it on TV.
Now onto the thorny issue of Christmas delivery - you still have a shot with Amazon, until Saturday or Sunday; it's going to cost you, but there are a couple of options to choose from:
1)One day delivery for orders placed before 11am Sunday 23 December - this will cost you £5.99; or
2)Delivery to pick-up locations for orders placed before 11am Saturday 22 December - everything you need to know about this new service is HERE.  I've used locker delivery services before - it's very easy, very convenient and a cheaper option.  Standard and One-Day Amazon locker delivery is £1.99 until 31 January 2013.
Just a quick word of advice - the 'search for location' of Amazon lockers and Collect+ stores (shops you can collect your Amazon order from) seems to be a little sensitive.  For example, I searched for NN6 and it returned no results; I searched for NN1 - which is all of six miles away - and it returned a string of options, so search for postcodes close to you too if you don't get any joy with your own specific post code.
I hope all that makes some sort of sense, and enjoy watching Room on the Broom  - I can't wait!