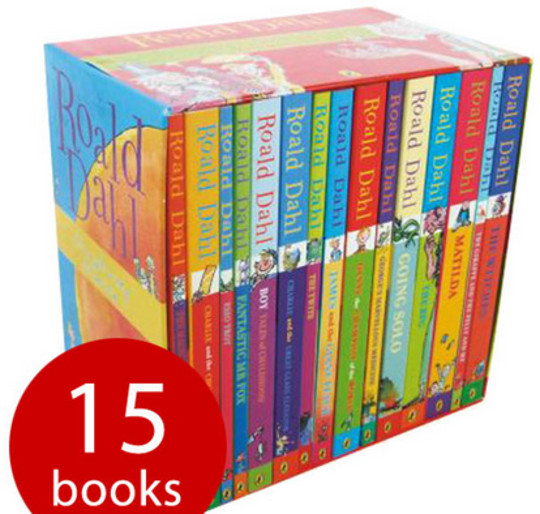 Red House have a complete collection of 15 books from Roald Dahl on offer for £15.99. Despite their £88.85 RRP, Amazon have a very similar looking set for £34.99.
Considering I did a degree in English Literature and specialised in Creative Writing, it's pretty shocking to admit that I've never read a single Roald Dahl book. It's something I'm starting to think I really need to rectify, and soon.
This collection promises to delight, excite, shock and entertain, and who wouldn't want that. This complete collection includes favourites such as Matilda, The Twits, and The BFG, still featuring  Quentin Blake's timeless illustrations too.
The whole collection is made up of:
Fantastic Mr Fox - Roald Dahl
The Twits - Roald Dahl
Charlie and the Chocolate Factory - Roald Dahl
The Magic Finger - Roald Dahl
Esio Trot - Roald Dahl
Matilda - Roald Dahl
Danny the Champion of the World - Roald Dahl
Going Solo - Roald Dahl

The Witches - Roald Dahl

James and the Giant Peach - Roald Dahl

The BFG - Roald Dahl

The Giraffe and the Pelly and me - Roald Dahl

Boy Tales of Childhood - Roald Dahl

Charlie and the Great Glass Elevator - Roald Dahl

George's Marvellous Medicine - Roald Dahl
Postage is free over £15, so that won't cost you any extra either.
Happy reading!
Thanks to dazzler9000 at HUKD