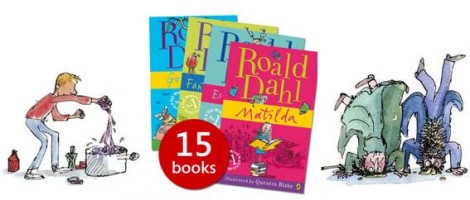 *Alert! Alert!* Calling all Roald Dahl fans - you can save the best part of £70 on this Roald Dahl Book Set as The Book People are selling it for £15.99 instead of £85.85.
I'm seriously tempted by this Roald Dahl book set; not for any of the kids, they already have their own well-thumbed copies of most of the Roald Dahl stories, but for ME.
I adore books; there's something very delicious about having immaculate copies of books which evoke very happy memoires.
All of the Roald Dahl stories are firm favourites, I'm not sure I could pick out just one or two.
George's Marvellous Medicine is definitely on the 'most favourites' list and despite concerns from over-cautious parental corners, and other well-meaning types , to my knowledge no child ever mixed up a marvellous medicine of their own and poisoned their grandma!
The BFG, Fantastic Mr Fox and Danny Champion of the World have been made in to films; the animated BFG stars David Jason and Danny Champion of the World saw the rather scrummy Ralph Fiennes take the lead.
My youngest, and his dad, have recently just finished reading Fantastic Mr  Fox at bedtime - it was the first 'long' book and he adored the tale of Foxy and Badger, along with cider-swilling Rat.
And let's not forget The Twits and James and the Giant Peach, which are also included in this Roald Dahl Book Set.
The last time The Book People ran this price on the Roald Dahl Book Set they literally flew off the virtual book shelves, so if you want one I'd order it now.
Oh and if you add this code to your basket - UAR040 - you'll get free delivery too; marvellous.
Thanks to mad-squirrel at HUKD