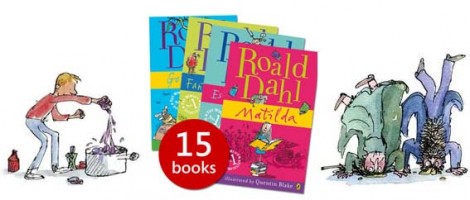 I have lots of favourite story books and authors from my childhood and Road Dahl is one of them. This will be my sixth time of telling you about the Roald Dahl book collection (that doesn't sound so bad when I remember the previous five times have been spread out over three years!) and each time it flies out of stock pretty quickly.
I adore books; I loved them as a child and I love them as an adult.  Enid Blyton was the first author I remember but Roald Dahl HAS to be my most, and enduring, favourite of them all - so I'm seriously tempted to buy this book collection just ME.  
I have very fond memories reading Fantastic Mr Fox - Foxy was just so cunning and clever and Badger, lovely and cuddly; Danny Champion of the World was utterly gripping and subsequently turned into a fantastic film.
The Twits were just a gross pair of, if memory serves me correctly, 'grizzly gorgons' and who can forget George's Marvellous Medicine and Charlie and the Chocolate Factory.
The full list price for this 15-book Roald Dahl collection is £85.85, you can have them all for a mere £15.99, which is an absolute bargain...in my book (sorry!)
Try this free delivery code - FWELLB - I'm not sure whether it's a single-use or first-order code (which, if it is, and this will be your first order, or the first time you use it then hurrah for you!) so if you're a regular over at the Book People you may need to pay the £2.80 single item delivery fee.
Thanks to JOliver335 at HUKD