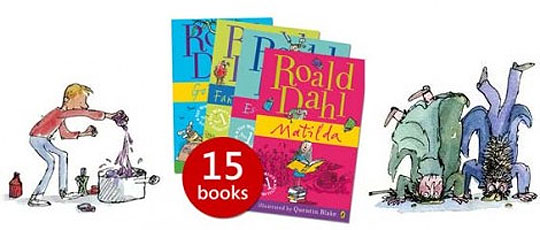 I've written about this Roald Dahl Book Collection before, but it's SO good I'm going to rave about it again - especially as The Book People are selling it for £15.99 instead of the £85.85 list price.
For any young book worm this Roald Dahl book set is an absolute must as far as I'm concerned.
It doesn't matter whether or not their reading skills are up for going solo with them, because the stories that Roald Dahl penned make for fabulous bedtime stories read out loud by someone else.
I have very fond memories of my mum reading Fantastic Mr Fox and James and the Giant Peach to me when I was little.
I remember being absolutely delighted when I unwrapped my own copy of the BFG, one Christmas morning, and promptly spent most of the day reading it.
Roald Dahl weaved magic the moment he put pen to paper and every child should, and probably will at least in this country, read plenty of his books before they grow up.
This Roald Dahl book collection contains all the favourites: Fantastic Mr Fox, The BFG, James and the Giant Peach, The Witches, George's Marvellous Medicine, Danny Champion of the World, to mention just a few.
If, by some chance, you're not familiar with Roald Dahl and his stories and are wondering whether the child you're thinking about buying for would like them, take my word for it - they will.
Free delivery comes into play when your order is over £25, otherwise a £1.95 single item delivery charge will apply.
Thanks to hocka at HUKD