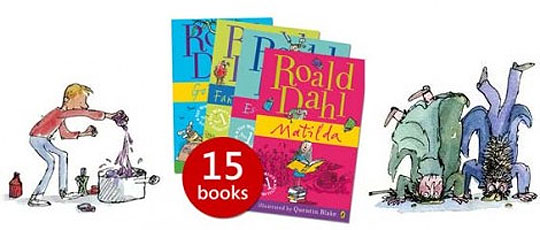 There are book deals that cycle round and round over at The Book People; they are SO popular that every time they crop up it would be remiss of me not to tell you about them - this 15-book Roald Dahl Book Collection is now just £14.39, rather than its full list price of £85.85.
This will be the fifth time I've written about this Roald Dahl book collection during my time at PlayPennies and I know there are some of you who have missed out each time - this is such a popular collection, it never stays in stock for very long - if you're one of them then this time could be your time!
I think everyone of my generation, and those of my teenagers and youngest's generations have read at least two or three Roald Dahl books and loved every single word of every single book; ask anyone to pick a favourite, or list the stories in their order of preference, and they'll find it an almost impossible task because all of Roald Dahl's stories are utterly magical.
I have very fond memories reading Fantastic Mr Fox - Foxy was just so cunning and clever and Badger, lovely and cuddly; Danny Champion of the World was utterly gripping and subsequently turned into a fantastic film.
The Twits were just a gross pair of, if memory serves me correctly, 'grizzly gorgons' and who can forget George's Marvellous Medicine and Charlie and the Chocolate Factory.
WOW, I miss reading all these stories now the teenagers are all grown-up; hurrah for my youngest, then, who is currently discovering all these AMAZING stories - the latest one completed being Charlie and the Chocolate Factory.
I've got a couple of codes for you to use:  JULY2012 will bring the price down from the published £15.99 to £14.39 and AFSNUPP will qualify you for free delivery of your Roald Dahl book collection.
Thanks to mia14, chicken65 and mattjones16 at HUKD