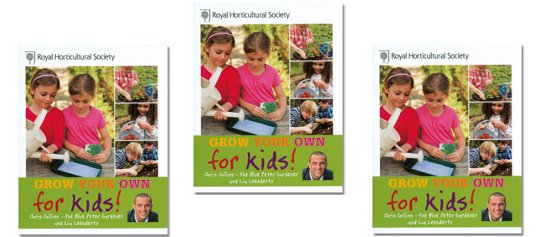 If you want to inspire your children to learn about food and how they can grow their own, then you should take a look at this RHS Grow Your Own For Kids book that's on sale with The Book People for £4.99 rather than £12.99.
You can't beat going out into the garden, picking food that you've grown yourself and then eating it - it tastes better than anything you can buy in the supermarket, is cheaper and provides a great sense of satisfaction too.
My granddad had the greenest fingers of anyone I know, he taught my mum how to grow things and she passed that love on to me when I was little - I had a little patch of garden all to myself and I grew quick-growing things in it, it was awesome.
Between the Royal Horticultural Society and Blue Peter's gardener Chris Collins (I remember when the Blue Peter gardener was Percy Thrower!) your young gardener will be shown everything from planting, growing and picking their own fruit and veg through to making a scarecrow - making your own scarecrow sounds like lots of fun to me.
Unless you're going to spend over £25 you'll have to pay a single item delivery charge of £1.95 - I wonder if there are instructions for growing a money tree in the RHS Grow Your Own For Kids book...?
Happy growing your own!