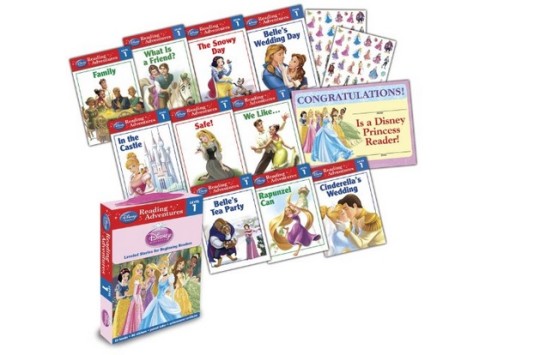 Amazon are selling a 10 book level 1 reading set called Reading Adventures Disney Princesses for £7.55 delivered. The set is actually only £4.80, so if you can top it up to over £10 you'll get it delivered free. Otherwise, buy one and pay postage for a tidy sum of £7.55, which is still a bargain.
Ordinarily this price would make me question the product, but the reviews on it are really good.
Brilliant reading books, would definitely recommend. My daughter loves reading these because these are Disney princess. These books keep children interested in reading.

My 4yr old loved these. Brilliant for encouraging learing to read. My little girl was about half way through P1 and these were perfect stage for her
And so the comments go.
The stories are highly predictable with repetitive sentence structures and easy-to-read sight words designed to inspire a sense of mastery and confidence. In the set you'll find ten 16-page books with 86 stickers, a parent letter and an achievement certificate.
Sounds like a bargain for a little one busy learning to read!