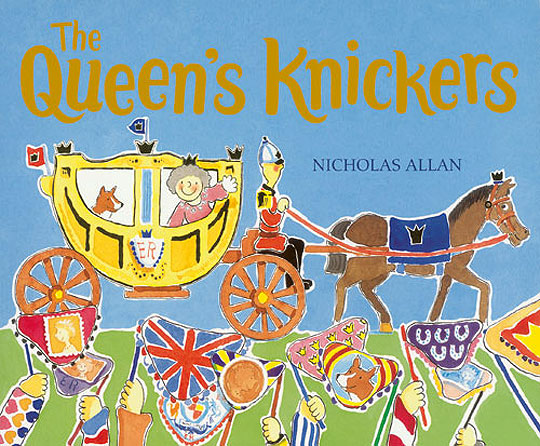 I'm going to wrap up my deals for the day with something to start getting in the Jubilee mood - this rather fun looking book, from the pen of Nicholas Allan, called The Queen's Knickers.
This is the sort of book that will have little kids giggling away like loons; the mere mention of knickers usually sets them off, let alone when those knickers belong to the Queen!
The Queen's Knickers tells all about the different pairs of special knickers the Queen has for different occasions - knickers to wear when she addresses the nation at Christmas during her Crimbo speech; knickers for the State Opening of Parliament and different ones for the annual Garden Party at Buckingham Palace.
My daughter used to have a pair of special knickers - they had 'Lucky Pants' written on the front with a little fairy and a wand; she'd wear them when she felt she needed a bit of extra luck and they are now stuff of family legend.
She properly laughed out loud in disbelief the other day when I told her I still have them tucked away in her keepsake box - like I said, stuff of legend and the perfect thing for 18th birthday party embarrassment!
The recommended price for The Queen's Knickers is £10.99, The Book People are letting if go for £3.99 and if you enter the code LIVECHAT2012 into your basket you may even land yourself free delivery too (otherwise it'll cost you an additional £1.99)
Happy reading!