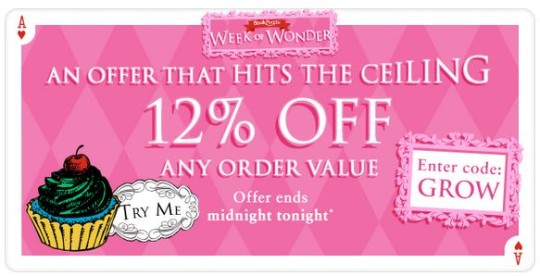 Until midnight tonight, there's 12% off any books of any order value at The Book People.
Grab a few more books from The Book People on sale today only*
Discount: 13%
Exclusions: eBooks
Expires: 8 March 2014
Promotion Code: GROW
I know I've been going on a bit about books this week, but they do make up such a big part of our lives and I am thrilled when I see my children pick up a book to read. I honestly believe that instilling a love of books in them now will make the tween and teen years easier for me too... I spent holidays lying on my bed, reading, not causing my mum any stress, so,  you know... hopefully karma will give me some of that back!
The books in this sale are their normal 'sale' prices that The Book People offers, but when you get to the checkout, enter the code and they'll take 12% off for you.
This Book People voucher code offer does not apply to eBooks, and can only be used one per customer.