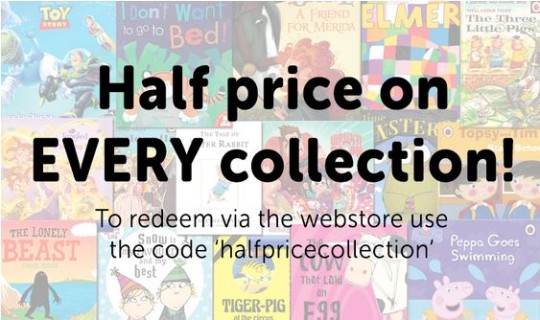 *edit* Since sharing this promotion we've realised that this is an APP sale - you won't receive physical books. For any questions, please contact Me Books
Me Books has 50% off on Book Collections with prices starting at £2.50 for Winnie the Pooh Collection. There are some stunning books in this collection, and they will make fantastic gifts, busy bag activities or travel accessories. Not just that but the RSPB collection will come in really handy in the summer. I'm quite excited about this collection, especially since delivery seems to be free.
Fill your book shelves with Me Books Collections
Discount: 50%
Expires: Friday, 30 May 2014
Discount Code: halfpricecollection
My favourite book collection in this set is the RSPB collection - we already have two of the books, and they are just brilliant for the kids. We have pond dipping - that's an afternoon's fun right there - and flower identification, again, a whole day in the woods and fields taken care of. There's also Mammals, Trees, Seashore, Mini Beasts and Birds. This set is now £6.50 and it's a brilliant price, as far as I'm concerned.
There's what looks to be a 10 book set of Charlie and Lola for £12.50 - I'm thinking these would be a great as party bag fillers! Of course, they'll be great for your Charlie and Lola fans too! There's also a £17.50 Disney set collection.
There's more, but I'll let you look for yourself!