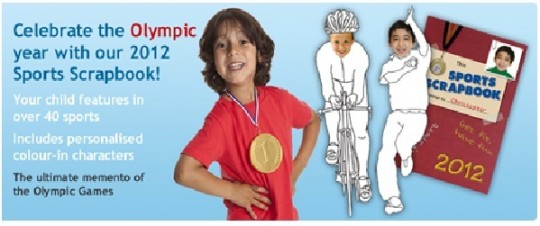 If you use this very tasty and exclusive code you will get 15% off the brand new 2012 Sports Scrap Book which is perfect for budding Olympians. The book has your child featuring in over 40 different sports including personalised colour-in characters. It usually retails for around £19.99, but our tasty discount code takes it to £16.99 instead.
The discount code below drops the price on this lovely Olympics 2012 memento very nicely!
Discount: 15%
Vouchercode: COLOURME15
Expires: 23:59 27th July 2012
If your little ones haven't caught the Olympic bug yet, then It's Your Story will get you in the mood with their new Sports Scrap Book. You can photo personalise each book for your child and their photo will appear on every page as they compete in over 40 different sporting events.
The book also has tons of information about each sport with fun facts and photos, and the kids can fill in information about what they enjoy about each sport and their favourite sporting heroes. They can even colour in various elements on the pages if they so wish. It would make a lovely gift and a great Olympic memento.