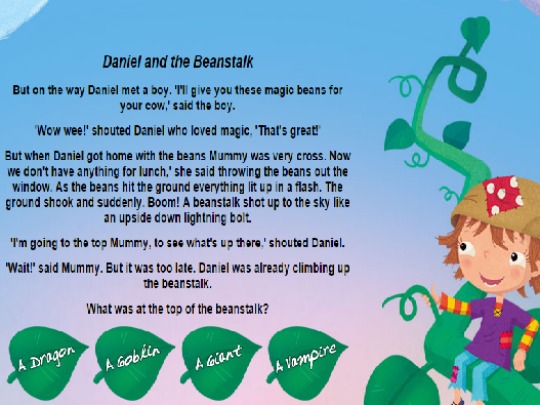 Story time is one of my favourite times of the day. It's not just a wind down for the kids, but I find it therapeutic. If your child is pre-school age then you might find that they would find this activity very fun, over at the Early Learning Centre site. It's completely FREE to use and will not take up the whole afternoon. It's called Tell Your Own Story, and can be personalised with your child's name.
There's a choice of two stories. Jack (your child's name) and the Beanstalk and Under the Sea. Why not try to get your child to read out their names at the right parts of the story?
We are often told how important reading is for our children, and I do try to read to mine as often as possible. This is ideal for that ten minutes that you can spare at any point of the day.
If the weather is a bit rubbish outside, and you are stuck in. Pull out your laptop, tablet or phone and give this fun reading activity a whirl. I bet your kids will have lots of fun with it.