Peppa Pig Book Collection £9.99 @ The Book People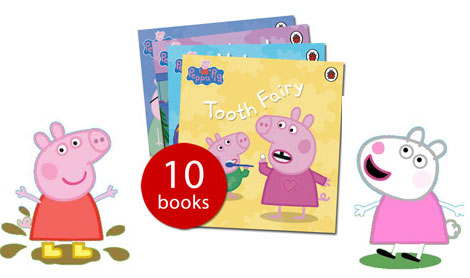 Ten books make up this Peppa Pig Book Collection and those lovely folks over at The Book People are letting them go for £9.99 instead of their £49.90 list price.
I love Peppa Pig.  I love how she'd have tiffs with Suzy Sheep because they'd disagreed with something and how it all worked out ok in the end.
My youngest son was a big fan of Peppa Pig and, had he not grown out of her a fair while ago, he'd have loved this Peppa Pig book collection.
The 10 books follow Peppa Pig as she experiences various common 'things'  such as recycling rubbish, jumping into the swimming pool and going on a school trip.
Stories like this are great as young ones can identify with a much-loved character and will learn more about interesting situations that they are likely to face while they are growing up.
This Peppa Pig Book Collection comes in a lovely little carry bag making it easy to take books out and about with you too, or somewhere to keep them all together.
Alternatively, if you have a party coming up then you can split up the Peppa Pig Book Collection and put a book in each party bag; nice and cheap, nice and sorted...OINK!