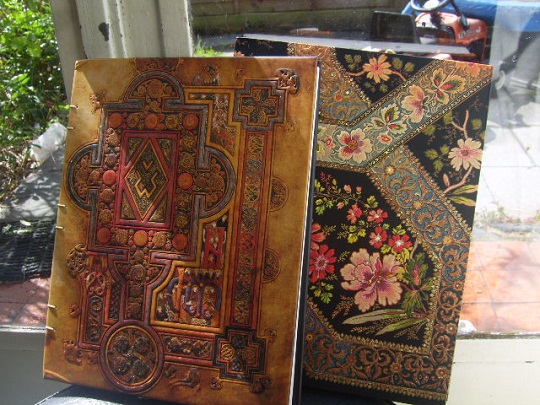 A couple of years ago, when my son started school, I began a tradition of making him a photo book. Just to show him what he did, what he liked, and what had been important for him that particular year.
These have been a huge success, and what I love most about these books is that I can use them to keep everything. All his school projects for example. I won't be able to keep all those projects themselves, but he will always have the photographs.
I really wanted to extend this to other things, and tried valiantly to keep scrapbooks for him. But you know, these take a lot of time, and more than a little bit of organising. And I just don't have that sort of spare time.
My husband makes notes in his diary. First time son did X, cute thing son said, when we went to X, and so forth. Really love to look back over the years and see these notes, but a little bit impersonal just jotting these things down in a paper diary.
So then the wonderful Tamsin at PlayPennies had this fabulous idea. What about something in between? A journal that you can keep about and just make notes in.
For someone like me who adores stationery with a passion, this was like a dream come true. I spent hours drooling over just the right sort of book, and then Paperblanks offered us the chance to try out two of their specially made journals.
Would I ever, in a million years, pay £16.99 for a blank notebook? Nothing comes into this house unless it is good value for money (unless it is a tie in merchandising for some US TV show but that's a whole other rant) and what could possibly make these worth the money? There was only one way to find out.
The Paperblank journals
I received two books from the Paperblank's range of journals. These were the Book of Kells: Quoniam Ultra design, and the Lyon Florals: Filigree Floral Ebony Ultra.
The books both have hard covers. Very hard covers - there's no way you're ever going to bend or crease the covers on these books. And that also keeps the inside pages pretty well protected too. Handy if you're going to be sticking things in there that keep the pages apart, as my son insisted on doing.
The designs on both covers are just gorgeous. A little embossed, with rick deep clours, and shiny sparkly details. I fell in love with them instantly, and so did my son. Who turned seven years old over the Easter holidays.
He wanted to know what we were going to do with the books, so I explained to him a little bit about keeping a journal. How we could just make notes in there, as and when we wanted, and use it to stick things like movie ticket stubs, train tickets, and other bits and pieces, as mementos.
My son immediately chose the Book of Kells. I think the Lyon Florals journal was maybe just a little bit too flowery for him. However, I think that it is my favourite. What I loved most about that book is that the pattern is marvellously picked out on the deep, matt black background.
Each book has 128 pages and measures 180 x 230. The website doesn't say what weight the paper used is, but it must be something fairly heavy. This is great for sticking things down - the glue doesn't leak through. And neither does ink from a pen or felt tip. I haven't tried paint!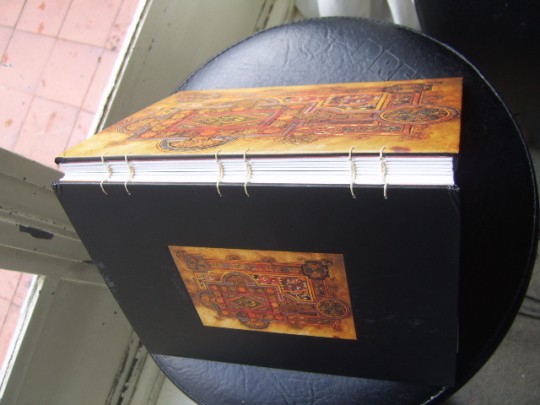 The paper used is acid-free, sustainable forest paper. And it is lovely to write on. The pages are all lined. What I loved most about the books is the stitching. On the Book of Kells, this is described as Smythe-sewn binding. And on the Lyons Florals it is handstiched binding.
Personally I couldn't see a difference between the two. But for the purposes of a journal, it works really well. The pages open and stay open without having to 'crack' the spine, and you can work right to the middle or gutter of the page. The different sections also fall open really well.
Pros beautifully designed and well made books that will look beautiful lying about in your living room. This will make it all the more handy for you to open and jot down a few things now and again. Which is how it worked for me!
Cons the price. These are expensive, there's no getting away from it. As we only use it a little bit - our Easter holidays only took up three pages - I think one will last a year so it will work out.
Overall verdict 7/10 the only downside is the price, but that was enough to knock three points off overall. That said, I will continue to buy these books, and will try out others from the ranges. When he's 17 I would like to have a bookshelf of 10 of these books.