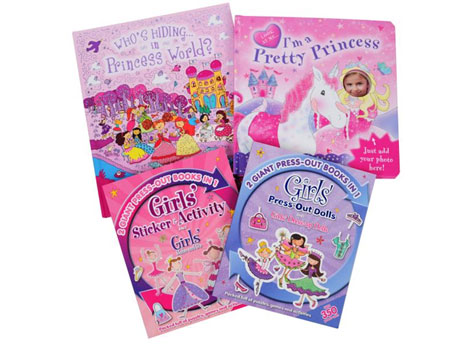 The Hut are selling this rather fabulous pack of four Princess books for just £3.99; they say the original price should be £33.99 - I'm not sure anyone has ever paid that for them (I wouldn't), but what do I know!
I would, however, pay £3.99 for them and might, as I have a little girl to buy a birthday pressie for this month.
In the 'I'm a Pretty Princess' book you can add a picture of your daughter so she can star in her very own Princess adventure.
The 'Who's Hiding in Princess World?' is a lovely hardback book with lots of Princess related activitites - your daughter will need to find all the characters in the fun filled, action packed story scenes with over 1000 things to spot; that should keep her busy for a while *grin*
Then there is the favourite sticker and activity books - 2 books in 1 volume full of puzzles, games and activities with lots of stickers to use.
Finally there is the 'Girls Press Out Dolls and Dress Up Dolls' - a big 2 in 1 volume full of over 350 press out Princesses, fairies and ballerina's with all their clothes and accessories.
I wasn't very girly when I was small and my daughter wasn't either so I didn't get to buy this sort of thing for her - thank HEAVENS for friends with cute princess-type daughters.
You won't pay for delivery from The Hut, so £3.99 is all you're going to spend.
Thanks to ozzy15 at HUKD