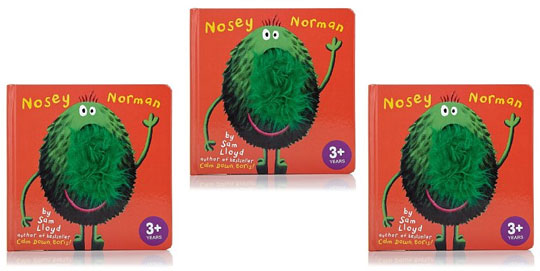 Marks and Spencer are selling this Nosey Norman puppet book for £1.60 - it was, originally, £6.
If you've been with us, at PlayPennies, for a while, you'll know that I'm a huge fan of books; I really like puppet books for young ones too - they just bring everything to life a little more and really lay strong foundations for a love of reading.
There are 10 pages within the covers of Nosey Norman and he's someone who loves to sniff things - it's your job to count all the different things he loves to sniff as you read along.
Two people have left reviews for Nosey Norman; this is what the have to say about him...
Really pleased with this one, as bought for my 1 year old, but know my 6 year old will enjoy it too.  They puppet 'nose' is a lovely idea & the story is funny too.  Nice quailty so should survive the toddler years!

It is a nice well made book. My husband thinks it is a bit crude......'Poops in potty' complete with pictures. consequently we didn't give it for Christmas as Granny might disapprove but pretty confident 4 year old boy will love it once he gets it!!!
Really don't bother with going for home delivery - it'll turn your Nosey Norman puppet book from a bargain book into a really expensive one - just arrange to pick it up from your nearest M&S.
Thanks to youchose at HUKD