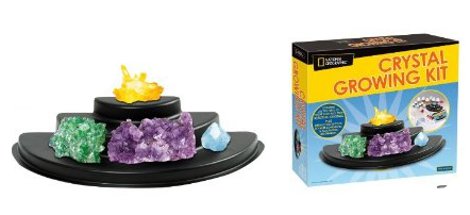 Grow your own crystal with this National Geographic Crystal Growing kit from Amazon for £12.49 – 34% less.
As a child we used to grow our own sugar crystals – they'd take ages to make, but we'd love eating them afterwards. While these aren't edible, the principles of 'growing' your own crystals remain the same and this looks like a good bit of fun for an older child –especially one with an interest in science.
The kit comes with quite a few things:
Plaster of paris
3 petri dishes
2 plastic moulds
1 large measuring cup
1 small measuring cup
2 measuring spoons
Tweezers
Plastic funnel
Eye dropper
Thread
15 granite base rocks
Magnifying glass
Display stand
15 blank labels
Instruction book
Aluminium potassium sulphate
Monoammonium phosphate
But apparently you have to supply your own jam jar, says one of the reviewers.
The reviews are worth checking out, actually, as opinion is decidedly split on this "cultivating your own crystals" idea, with some loving it an some thinking it's a waste of money.
According to the box you can grow at least 12 types of crystals and it is suitable for children over 10 years of age.