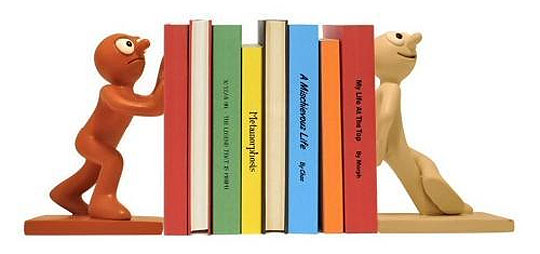 Play are selling Morph and Chas bookends for £7.99, their rrp is £19.99.
I've written about these Morph and Chas bookends before; I thought they were fab' last year (and they were £2 more then too), and I still think they're just great this year - if they'd been around when I was an avid viewer of Take Hart, I'd have definitely wanted them to stand on my bookshelf!
I'm not sure that Edward, my six-year-old son, would appreciate the nostalgic element of having Morph and Chas bookends propping up his books, but I'm sure young kids would quite like them anyway; they do look rather fun and cheeky.
Of course, not everything we write about has to be for the kids - there's absolutely nothing wrong with buying Morph and Chas for someone who looked forward to watching Morph and Chas' weekly antics, whilst gettiing over the diappointment that their picture wasn't featured in...The Gallery.
The only way to get these guys to you in time for Christmas is to pay for next day delivery and order either today or tomorrow morning - it'll cost you an additional £4.99 at least.
Thanks to hsg at HUKD