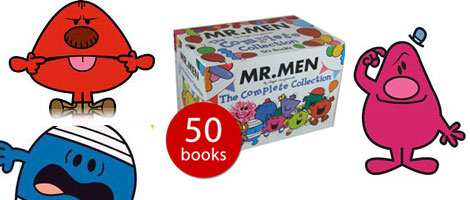 Now when I say The Complete Mr Men book collection, I'm talking about 50 books! Yup, 50 books for £27 and that includes delivery too.
I LOVED LOVE the Mr Men!
The one I remember reading most when, I was little, was Mr Forgetful and I still like reading it now - it's like an old friend.
"Farmer Giles, there's a goose asleep in the lane!" Poooor Mr Forgetful.
My brother had Mr Bump and Mr Jelly too and I loved listening to my mum reading them to him at bedtime.
I'm still trying to work out the financial bit of this: 50 books for £27 (the rrp is £125) - surely you can't print them for that price!
Oh, they also come in a rather lovely presentation box too, so you can keep them all together and nice and neat and tidy.
There are, apparently,  a few new additions to the Mr Men family in this collection, Mr Nobody is one of them - I want to read that now, it already sounds like it could be a hoot!
Now, the published price on The Book People's website for this Complete Mr Men book collection is £30, you're going to need to use these codes to drop it to £27:
BRINC25 or SCHOOL20 to get 10% off and then ZD533 to get free delivery; lovely.
Thanks to Rhys135 over at HUKD!