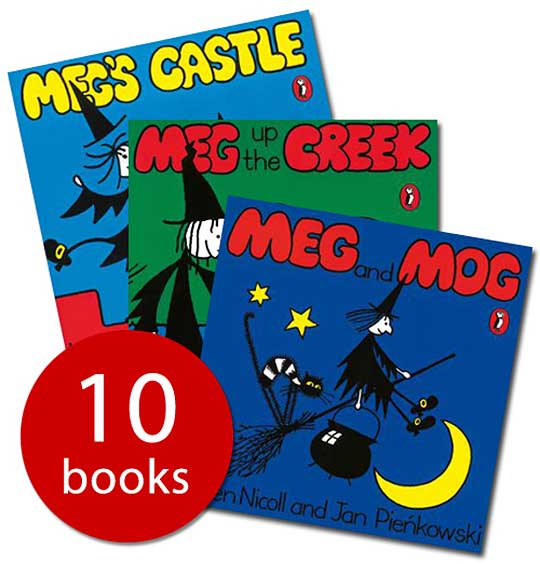 If you mooch over to The Book People you'll be able to pick up a wonderful Meg and Mog book collection for £9.99, instead of £59.90.
Wow, Meg and Mog bring back such early, and happy, childhood memories for me!  Just looking at the Meg and Mog book covers takes me back to watching Words and Pictures at infant school in the class that would now be called Reception.
There were only two classes in the entire school, the school hall was in the middle of the building and we used to sit cross-legged in there, on coir mats shaped like Nice biscuits, and watch Meg and Mog on TV.
Meg loves Mog and Mog loves Meg (I'm fighting the desire to add a(nother) cat to my family and Mog has just made the existing names list, which also includes Cheshire and Bodmin) and together they get up to all sorts of adventures.
There are 10 stories in this Meg and Mog book collection and they all come bundled together in a Meg and Mog ziplock back; marvellous.
Single item delivery usually costs £2.80 and if you don't want to pay it then remember to use one of these free delivery codes when you checkout: PUMPKIN , OHGOON or XMAS262
Happy Meg and Mog reading!