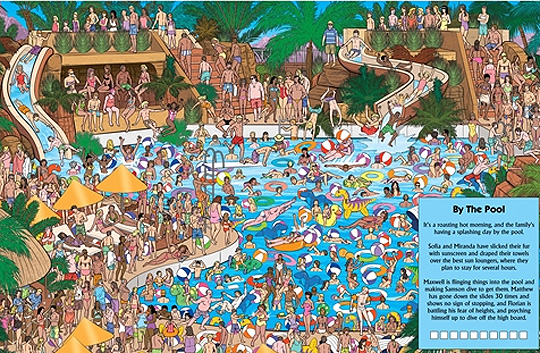 If you're not fed-up with everything meerkat yet then you might want to a look at this Where's the Meerkat? On Holiday book - it'll certainly keep the kids amused for a little while (if they like this sort of thing) and for £2.99 you won't have lost anything if they don't.
I got over (compare the) Meerkat madness a fair while ago - it Alexander the Meerkat, and his sidekick Sergei, were funny for a little while but, for me at least, they're a little tired now and only marginally less annoying than the terribly Go Compare adverts with the fat opera singing dude - I want to KILL HIM!
I must make it clear that this Where's the Meerkat? book has nothing to do with either company - it just features 10 meerkats on each page that you have to find; think Where's Wally? with meerkats and that's what you've got.
I used to quite like things like this as a child and occasionally now I'm grown up, if I'm away from home and have time to kill and can't 'work' on my phone.
Standard delivery is free and the usual price for this Where's the Meerkat? book, by the way, is £7.99.
Thanks to andywedge at HUKD