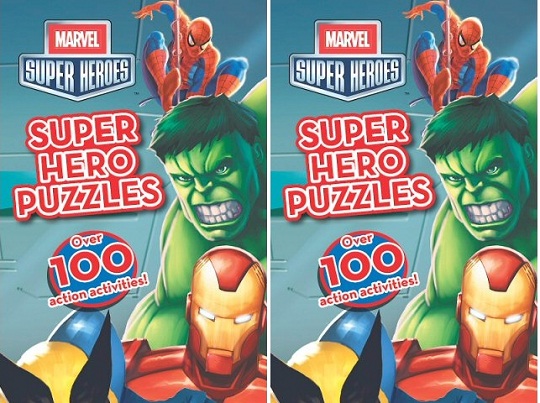 Pick one of these up for rainy days, long trips, or Christmas stocking fillers. Play.com has these Marvel Super Heroes puzzle book reduced to £1.99, down from £5.36. This includes delivery.
The book is sold by The Works, through the Play.com website. The website doesn't really say what sorts of puzzles you get in the book. According to the cover, there are mazes, quizzes and brainbusters. There are 100 'action activities' in the book.
For this reason I'm buying one to keep in the car. It amazes me, as I get VERY carsick, that my son is able to read, and do activities like drawing, while in the car. I'm actually really very jealous!
The Marvel Super Heroes brand provides all the action and heroics that children seek out.
Children can leap into a super hero world! Get to know your heroes and join them on super adventures in over 100 power-packed puzzles.
A fun and compact format that can be taken anywhere.
Packed with bright and bold super hero artwork.
Fun text and captions transport children into the shared universe of all their favourite super heroes.
Thanks to andywedge at HUKD!