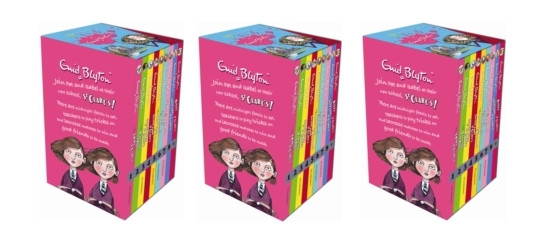 Enid Blyton's Malory Towers box set are on sale at WHSmith for £8.99, reduced from £49.99 if the website is to be believed. A similar set with 9 books is currently £38.17 at Amazon.
Enid Blyton wrote six books for the Malory Towers series between 1946 and 1951.
Malory Towers is a boarding school in Cornwall, where the heroine Darrell Rivers, enters the school in the first form and the stories follow her through to being headgirl in sixth form.
Malory Towers has six forms, from the first to the sixth, and four house towers—North, South, East and West. There are about forty girls in each form, divided among the four houses. Darrell and her friends are in North Tower, where most of the action takes place, and where the girls try not to run foul of strict housemistress Miss Potts, or the equally strict Matron.
St Clare's is a boarding-school for girls, and the story follows their adventures through the first - fifth forms of school.
Thanks to Kat117 at HUKD