Mr Majeika Book Collection £12.99 @ The Book People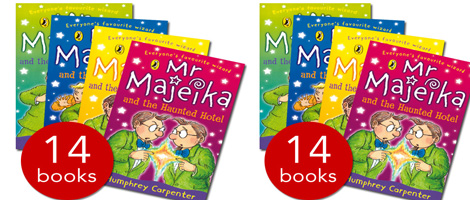 The Book People really do offer some amazing discounts on books, especially cool collections like this one. The Mr Majeika collection is down from £69.86 to a lovely £12.99, an enormous saving of £56.87!
The Mr Majeika series of books are about a clumsy ex-wizard who's now a school music teacher and his various exploits. The series is ideal for children who are starting to read alone and have been designed to help them improve and enjoy their reading experiences.
The collection on sale here features 14 books from the Mr Majeika series including the School Trip, the Lost Spell Book, the Ghost Train, the Dinner Lady, the School Caretaker, the Haunted Hotel and many more.
The books are filled with thrills and magical adventures and will enchant young readers from start to finish. They were written by the late broadcaster and writer, Humphrey Carpenter, and bring a fresh and fun emphasis to school themes that kids can relate to.
These books look fabulous for young readers and the price is just awesome for such a huge collection!
Thanks to jermaine111 at HUKD!