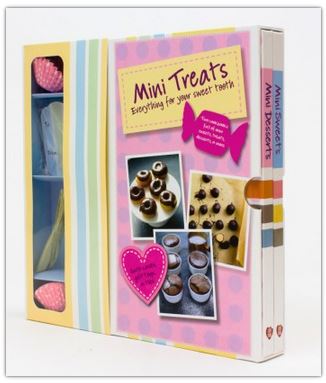 The Love Food Mini Treats  gift set from Parragon is such a lovely gift for budding bakers or DIY gift makers.
The Mini Treats book isn't actually for children - although the pastel colours might make you think so originally. The slip case contains two books - Mini Desserts and Mini Sweets, and four compartments containing accessories for your baking and making: mini cupcake cases, gift tags and ties.
The set has an RRP of £16.00, which is a bit extreme for the extras you're getting, I think, and the books themselves I wouldn't have expected to pay more than £4 or £5 each for, were they sold individually. If you can find it for less than the RRP, however, it would be worth it. The biggest problem seems to be finding this particular version of the set since there seem to be previous issues around. For example, the one we're reviewing is £16 and can be found at Parragon. If you look at Amazon*, there's similar, but without the gift tag or ties, for £9.70. It comes with a lot more cupcake cases though, and as a gift or to learn, I would buy it for just under £10. It looks like the same thing, just with different 'accessories'.  The cardboard tags and ties are certainly not worth £6.30.
There are two cookbooks in the set - with 60 recipes for delicious little desserts, perfect petite pastries, tiny ices, chocolates, fudges and so on.
The recipes themselves are awesome.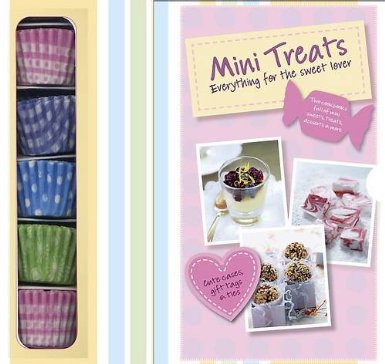 Look - if you're even vaguely health conscious, it's going to take you a long, long time to work your way through these books. 
The mini desserts are in the categories of Comfort Desserts, Indulgent Desserts, Special Occasion Desserts, and Mini Party Desserts. The mini sweets are Fruit and Nut Sweets, Toffee and Fudge Sweets, Chocolate Sweets, and After Dinner Sweets.
Thinking of dietary needs, I was looking through the books wondering about a dairy free friend, and if I could make anything for her. I was pleased to find loads of dairy free or easily adaptable recipes for them. Same goes for gluten-free recipes, egg-free recipes and nut-free recipes. While neither books strives to be free-from, they both offer a number of options for people who are.
Often when you buy a recipe book, you kind of assume that there are a number of recipes you're unlikely to ever actually make, but you buy it for the ones you'd like to. Having paged through both of the books, I can not see very many of the recipes that I'm unlikely to make - maybe two or three: chocolate moutaches, because why would I? Flapjacks because I adore my flapjack recipe already. The rest are all perfectly yum looking.
None of the recipes are so detailed and difficult as to be off-putting, and none of them require ridiculous amounts of ingredients, or worse, ingredients that you have to Google first to find out what they are, and then Google to find out where the heck to buy them.
I think it's a brilliant set for someone starting out in confectionery, and I do think it makes a brilliant gift.
As for packaging, the two books come in a slip case, as previously mentioned. When the bits in the slip case are used up, you can remove it and still have a box for the two mini books. That's something I really like about it - it's compact and really doesn't take up very much space, but is choc full of fabulous recipes and ideas, seriously. It doesn't require a lot of space though, and in my teeny kitchen that is a big issue.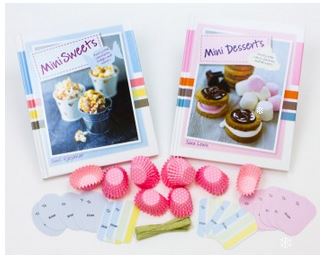 The photographs are also beautifully done, really enticing you to make, bake and create.
The Good
I love the presentation of the books

They make a lovely gift or a practical starting point to sweets and treats. 

The recipes are easy to follow, don't require masses of additional ingredients and aren't unnecessarily complex. 

The two books combined are about as many sweet treat recipes as you'll ever need. 
The Bad
I think the RRP is a bit over the top, but since you rarely actually pay RRP there may be offers and better prices around if you look for them. 

The extras are a bit gimmicky really. There aren't enough of them to really make a justifiable difference to the price. I'd rather just have the book sets at a lower price. It does make for a nice gift idea though. 
The Verdict
I think I've said all that needs to be said really. It's a lovely gift set, a fabulous thing to have in your recipe book collection, and all round nice idea.