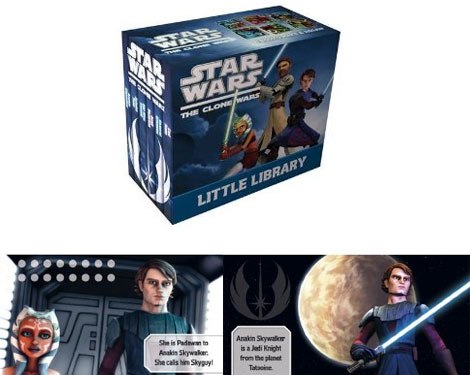 Asda Entertainment are selling these Little Library Star Wars The Clone Wars books for £3 instead of their rrp 4.99.  The next cheapest I could find whilst out and about on the internet was Amazon at a price-fluctuating £3.39.
When I was a kid we had to queue around the block for, what felt like hours, to go and see the latest Star Wars movie and THEN we'd have to wait for y e a r s to see it again when it was released for TV at Christmas time.
I loved Star Wars, it was a huge part of my childhood; then came the prequels and The Clone Wars.
It would seem that The Clone Wars has captured the interest of my youngest's generation more than the original three Star Wars stories did, and I can only think it's because there are cartoon versions.
These Little Library Star Wars The Clone Wars books are too 'small' for him now, his reading is a little more advanced these days, but if you have a little person you'd l ike to mould into a young Jedi then they might be for you.
Each book features a different character from the early films: Anakin Skywalker, Ahsoka Tano, Obi-Wan Kenobi, Asajj Ventress, General Grievous and bounty hunter Cad Bane
The reviews are good too and there's nothing to pay for delivery...
"Bought this cute set of books for my 3 year son who is a Star Wars fan. He doesn't really understand much about it but loves Star Wars as his older brother and dad are big fans.
This is a nice little set for him and he enjoys looking at the pictures and he loves asking questions about the character."
Thanks to dandoc2 at HUKD