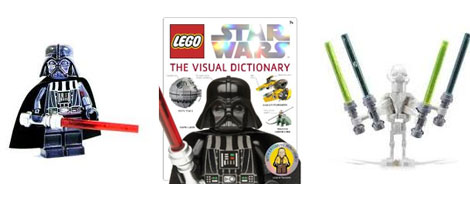 My youngest is a HUGE Lego Star Wars fan and will love this LEGO Star Wars dictionary.
I must confess to being a bit of a LEGO Star Wars fan too - I've completed the first LEGO Star Wars Trilogy (that's episodes IV, V and VI) on the Xbox 360 with 100% you know!
My youngest loves details. He wants to know the ins and outs of everything; the what, the how, the why, the how big, the how small, the how many...it's relentless.
This LEGO Star Wars Dictionary will satisfy his curiosity on all things Lego and Star Wars and beyond; hurrah!
It comes with an exclusive action figure and has 96 pages PACKED with colour photos and details about the weapons, battle stations and even the Death Star (that's no moon...that's a battle station!)
They'll also learn all about the LEGO versions of Darth Vader, Boba Fett, Yoda, Luke Skywalker and discover hundreds of little known facts about the Star Wars characters.
There is also a ton of information on the history, manufacture and construction of Star Wars LEGO.
Amazon have reduced the price of the LEGO Star Wars Dictionary, for now, from £16.99 to £10.99 - may the Force be with us and make Amazon keep this price as it is for a fair while!