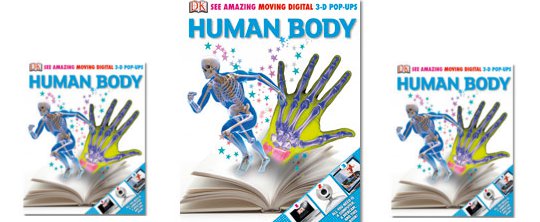 This Human Body 3D Pop-Up book is on sale with The Book People for £3 instead of its full list price of £12.99; awesome.
I'm currently studying anatomy which includes, in serious detail, muscle physiology and if you don't love it then, WOW, would it be heavy going what with sarcoplasm, mitochondrion and all those myofibrils!
Thankfully, this Human Body 3D pop-up book looks like it will be very informative and educational whilst being fun and engaging at the same time, because the information isn't contained in the book alone - your computer and webcam also come into play.
To quote the official blurb about the Human Body 3D pop-up book,
The incredible on-screen pop-ups allow children to get inside the body and see the way it works from all angles, while the detailed facts, stats and figures make this hardback a top learning experience
It sounds properly great to me - I think I might even buy one for myself to lighten up my anatomy revision!
A single item delivery charge of £1.95 will apply if this is all you order from The Book People - a small price to pay for such a great book, in my humble opinion.
Happy anatomy learning!