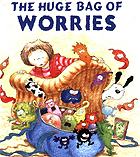 Just like you can never have too many Thomas things, you can also never have too many books in my opinion!
There are some books that are absolute MUST-READS and this is one of them.  Its message is valuable and may prove to be invaluable to you and your child; in fact, for what it's worth, I think its valid for everyone not just the target child audience.
Poor Jenny, she's usually happy and care-free little girl but she starts to collect a whole 'bag of worries' and they follow her everywhere and just seem to get bigger and bigger.
Urgh! We all know what that feels like and it can be tricky enough to deal with feeling this way as a grown-up, let alone when you're little.  We are often so absorbed and pre-occupied by our own concerns we forget thatour kids have worries too, so HURRAH! for Jenny's grandmother who comes to the resuce  and shows her different ways of dealing with everything and helps Jenny clear out her huge bag of worries.

Reviews for this book are glowing and it's easy to understand why:  the story is charming in its own right, is beautifully illustrated and will help any child who is beginning to fret about things in their life.
Delivery is free with Amazon's Super Saver delivery option and you'll save yourself  50% off the rrp too.
Thanks to amibees over at HUKD!