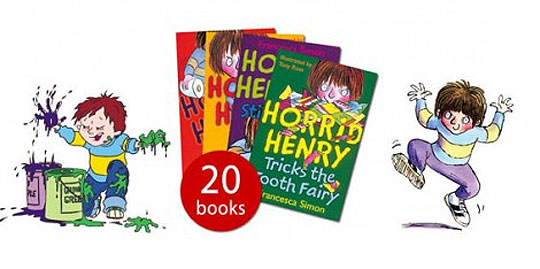 Now, if you believe the full retail price for this Horrid Henry's Big Bad Box Set of books then you're going to be very happy indeed because you'll be saving yourself the princely sum of £82.80; hurrah!
If you've never met Horrid Henry before then you're in for a treat - Henry is horrid (the clue is in the title) and he has a brother, Perfect Peter - if you have more than one child then you won't have to imagine too hard to picture the sibling squabbles and one-upmanship that goes on between these two!
Much is often made about children's stories which feature naughty children and running the risk of your own child emulating what they've read - well, as far as I'm aware no child has gone on the rampage 'being like Horrid Henry'.
All three of my children have read the Horrid Henry stories and, yes, they found them funny but only because he was so naughty and knew/know that sort of behaviour is not the way to do things.
The Horrid Henry books have been shown to be particularly useful in encouraging reluctant readers, particularly boys, to pick up books and become thoroughly engrossed in the world of Horrid Henry.
If this is all you order from The Book People then you'll pay a single item delivery charge of £1.95 however, if your order comes to £25 or more then you'll qualify for free delivery.
Happy 'horrid' reading!