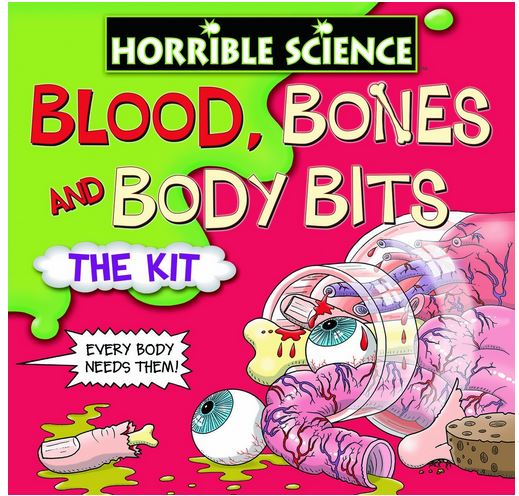 We've been reading Roald Dahl lately, and when I saw this Horrible Science Blood, Bones and Body Bits set for £8 at Amazon, I just had to have it. They're not related, but I'm sure it'll come in handy somewhere in reading some of the twisted rhymes and stories. And reduced from £15.99 it seems a good deal. 
The reviews on this set are pretty mixed, with a lot of people saying you don't get a huge amount of play out of it, and when used once it isn't returned to. At the same time people who use it for education purposes - whether a school group or one - seem to have found it effective and useful.
The kit includes a 32 page fact notebook, and an instruction book for the bottom-burp machine (?? Is that a fart?) , and creating chemical chaos turning bones all rubbery. You just need to add a few knick-knacks from home to this comprehensive kit.
One thing the instructions make pretty clear is that this is a kit for children to do with their adults, and not a solo activity, even though it is 8+ recommended.