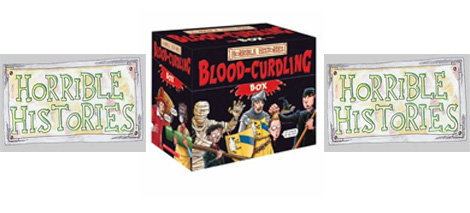 Amazon have an amazing deal on this Horrible Histories: Blood Curdling Box set of 20 books - they should be retailing for £30.00 but you can grab a blood curdling box for just £14.99.
I remember when the Horrible Histories books first came out; I wanted to kiss Terry Deary, the author, for his genius approach to history and bringing it to life for my children.
If your kids are still small and you haven't come across Horrible Histories yet, then you're in for a treat.
I don't think you can ever have books like these in the house too early! I have a bit of a thing for Atlases and other similar reference books - I started buying them when the Teenagers were very young, so they had access to knowledge when they needed it.
They were born in the mid 90s remember, so the internet and home computing wasn't as it is today.
However, you still can't beat sitting down with your young children and turning ACTUAL pages of a book; with Horrible Histories books such as The Rotten Romans, The Terrible Tudors and The Awesome Egyptians, your child will captivated by the horrible history of our planet.
Whenever there are Horrible Histories offers they tend to go out of stock fast, so don't dawdle if you want your own blood curdling box set of 20 Horrible Histories books!