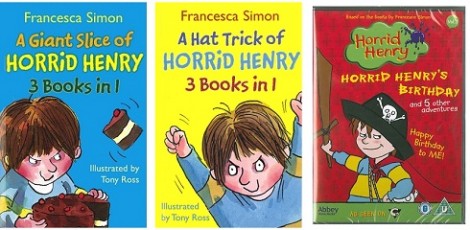 Horrid Henry is a hugely popular CiTV television programme, and it is now also a movie. But before all that were the books. These books have an RRP of £8.99 and are available at The Works for £1.99 each.
Now, I understand from other parents that Horrid Henry isn't exactly their favourite, but the children can't get enough of him. And if it gets them reading books, can't be all bad right?
Each book is three books in one volume. For example, A Giant Slice of Horrid Henry is made up of
Horrid Henry Meets the Queen
Horrid Henry's Underpants
Horrid Henry's Stink Bomb
According to the blurb, horrid Henry's evil plans so often go awry - and every child in the country loves hearing about them. Small wonder really that these books are so popular. I'm not entirely sure of the point of the stories though. Are they meant to be a warning to children? It sounds more to me like they're just providing them with ideas!
The three books in this collection include stories in which he's given some embarrassingly pink underpants, the one in which he devises a cunning plan to get out of doing chores, and the one in which he shows Perfect Peter how to bow to the Queen, with disastrous results.
Thanks to JB19642 at HUKD!