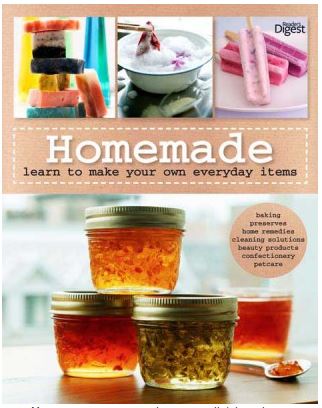 The Hobby Warehouse has a handful of baking and other goodies in their clearance section, and one of those is the book Homemade - learn to make your own everyday items, reduced from £14.99 to £9.99 - it's currently £13.49 at Amazon.
There's a definite sense of pride and joy that comes with making something yourself, from scratch. Just yesterday friends came over for dinner and along with a home made curry I served home made chapati, and everyone commented  by first asking if I made them myself, then on how fab they were. Definitely a bit of pride  there!
With the help of Homemade, a fantastic onestop source of recipes and instructions for making more natural and less expensive alternatives to many of your favourite brand-name products, you can avoid chemicals, additives and other junk.
"Homemade includes over 700 recipes for food, beauty and health items and pet and garden products, as well as household cleaning solutions, polishes and compounds. You can save money by making your own, and you will produce less waste by recyling containers and bypassing over-packaged supermarket products. As a final bonus, you ll know exactly what has gone into your homemade product - no additives or mysterious E numbers, just good natural ingredients."
Sounds good to me!