Harry and his Bucketful of Dinosaurs 10 Books £9.99 @ The Book People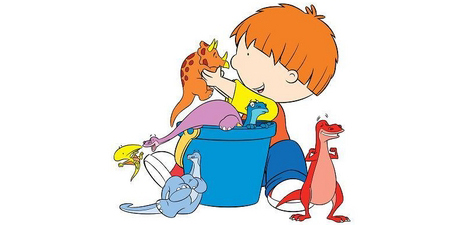 I love Harry and His Bucketful of Dinosaurs! He's just far too cute for words.
All of the kids love watching Harry and His Bucketful of Dinosaurs (even The Teenagers, mind you I'm sure they'd watch the test card if it was still on!) and the books are just as big a hit.
The Book People are offering a wonderful collection of 10 Harry and His Bucketful of Dinosaurs books presented in a lovely gift bag, for just £9.99 instead of the £59.90 rrp.
If you don't know anything about Harry, let me enlighten you.
Harry is a 5-year-old boy who has a bucket full of toy dinosaurs.  When Harry jumps into the bucket he is transported into the world of his toy friends, DinoWorld.  In the real-world the dinosaurs are just toys but in DinoWorld they are real and full-size!
If you're hosting a kiddies party anytime soon then a couple of sets of these books can be split up and put into party bags, or given as presents to any budding paleontologists for their birthdays!
And if that wasn't enough, use code Y102 to get free delivery.
Thanks to andywedge over at HUKD!