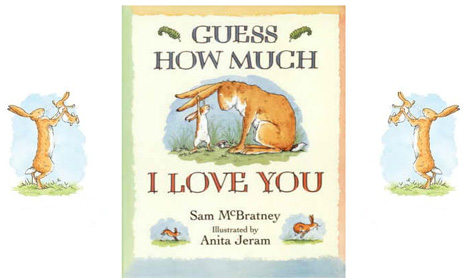 Guess How Much I Love You is one of my favourite childrens' stories of ALL time and Amazon are selling the board book version for £3.18,  instead of £4.99
The Guess How Much I Love You story, along with its illustrations, are SO beautiful they almost make my heart ache with joy.
I know what it feels like to try and tell someone just HOW much you love them; there just aren't enough words, or ways, to quantify it!  In Guess How Much I Love You, Little Nutbrown Hare and Big Nutbrown Hare discover that love isn't something you can easily measure.
What I can easily measure is just how much I LOVE this book.
There are  various different versions of Guess How Much I Love you - paperback, a sweetheart edition but this one is the board book version which makes it perfect for young hands just getting to grips with turning pages.
I must confess to being rather tempted to buy the sweetheart edition of Guess How Much I Love You just for me (I think I'm a bit grown up for board books now), just to keep, just to look at, just to fall in love with all over again.
You know my Amazon delivery spiel by now, you don't need me to keep saying it over and over do you?
Happy love guessing!