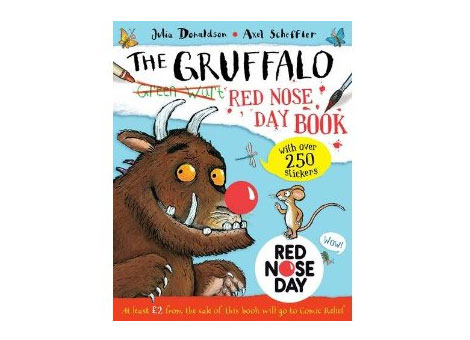 Red Nose Day might have come and gone but you can still play your part by buying a Gruffalo Red Nose Day Book from Amazon.
The teenagers recorded Comic Relief on Friday and have been watching it in bits and pieces over the weekend - which has meant I've spent a lot of it blubbing my eyes out.
My youngest is a HUGE Gruffalo fan and he'd love this Gruffalo Red Nose Day book just because it's the Gruffalo.
This special edition Gruffalo sticker activity book is packed with fun games, jokes, recipes, colouring and drawing, over 250 stickers and some fantastic fundraising ideas which you can use for future Red Nose Days or any other charity events.
This Gruffalo Red Nose Day book is such good fun that it's really suitable for any time.
You could find yourself transformed into the Mouse or the Gruffalo during the Easter holidays during a Gruffalo Dress-up Day, OR you could host your very own Gruffalo party complete with wart and Mouse cupcakes.
Marvellous fun and all for a good cause too; hurrah!