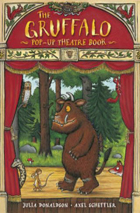 It's official - I'm in LOVE with the Gruffalo!
I got so excited when I came across this FABULOUS Gruffalo pop-up theatre book whilst mooching around looking for deals tonight!  Just LOOK at it - it's fantastic!  I'm going to have to try and limit my use of exclamation marks in this post for fear of causing a world-wide shortage of them.
So first, you can read the story exactly as it was written and THEN when you're done with that you can open the book up, turn it into a stage and then act out the story OR make up your own Gruffalo adventures!!

The book comes with lots of extra Gruffalo goodies to help you put on your performances:  a full cast of characters, a play script and other bits and pieces.  Forget getting this for the kids, I want to have one so I can put on my own Gruffalo plays.
This is a storming deal as elsewhere it's retailing for a lot more in some places - it has an rrp of £15.99 if you're interested - and delivery with Play is FREEEE.
I'm off to buy myself an early birthday present and look forward to having my own little piece of Gruffalo heaven!
SERIOUS thanks to andywedge over at HUKD!