The Gruffalo Pop-Up Theatre Book £4.99 @ Redhouse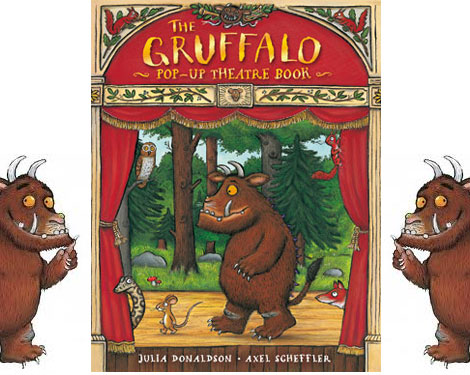 Redhouse are selling this rather awesome Gruffalo Pop-Up Theatre Book for a mere £4.99 instead of the £15.99 list price.
It's no secret that we completely and utterly ADORE anything Gruffalo here at PlayPennies, and this Gruffalo Pop-Up Theatre Book is no exception.
Just LOOK at it – it's fantastic!  I could quite happily use thousands of exclamation marks in this post but I'm going to try and limit my use of them for fear of causing a world-wide shortage.
When you're the proud ownder of a Gruffalo Theatre Pop-Up Book you can, first, read the story exactly as it was written.  But THEN, when you're done with that, you can open the book up, turn it into a stage and then act out the story OR make up your own Gruffalo adventures *exclamation mark* (<---- does that count?)
The Gruffalo Theatre Pop-Up Book comes with lots of extra Gruffalo goodies to help you put on your performances:  a full cast of characters, a play script and other bits and pieces.  Forget getting this for the kids, I want to have one so I can put on my own Gruffalo plays.
I'm off to buy myself an early Mother's Day Present (no one else will, so I might as well) and look forward to wallowing in my own little piece of theatrical Gruffalo heaven!
Thanks to minmin at HUKD