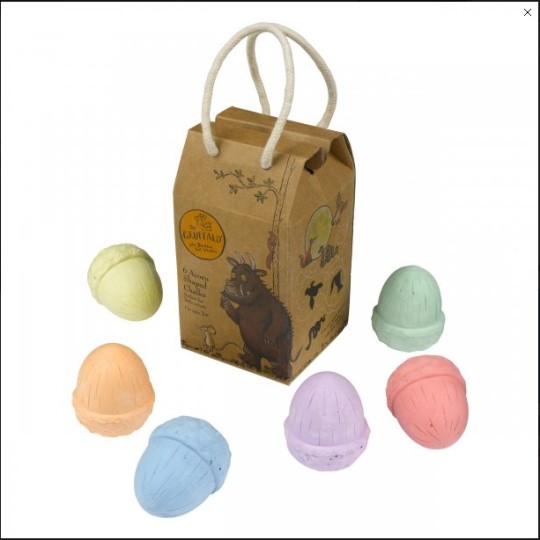 I am loving the Gruffalo Acorn Shaped Chalks Set at the moment, and have just bought some for birthday presents. The Internet Gift Store has free delivery at the moment, until the 7th July, and you just have to add products to your basket to have the £3.50 reduced. If you are not a first time shopper, you can add the codes FACEBOOK1 and ICLICKED to reduce the price from £7.99 to £6.69. If you've not bought from them before, or want to open a new account, you can also use the code 1ST10 to take another 10% off.
If you try to pay for this by PayPal, you may be charged a fee, in which case you may do better just buying with a bank card.
This is an official Gruffalo chalk set and comes with 6 acorn shaped chalks and a Hopscotch - Fun with Chalk booklet with a ton of inspiration, fun and hopscotch ideas. I love how the blurb says to let the kids go with it and in a "few days and everyone will envy your new bright pink house and garden". That made me laugh.
They come in a "delightfully packaged rope handled gift box" and also contain a booklet.