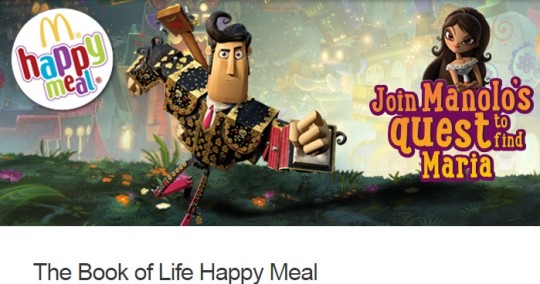 If you're looking for dinner & a movie with a little person this weekend, you may want to think of lunch instead and grab a Happy Meal from McDonalds. Don't chuck out the box though, because there's a voucher on it that gives you a free kids movie when you buy a full priced adult one, which is good for saving you a few pounds.
Apparently the voucher is good for Cineworld, VUE, Odeon, Empire and Showcase.
There's also a voucher to take to your local WHSmith or Eason (Northern Ireland) high street stores to receive £4.99 off the RRP of £5.99 for the purchase of either The Book of Life: A Hero's Journey or The Book of Life Movie Novelisation. The Book of Life Movie Novelisation is also available as a free eBook, which you can download using the voucher code on the Happy Meal box.
And if you just can't get enough of the movie, the website also hasdownloadable Book of Life activity sheets.