Flossie Crums Recipes For Remembrance Review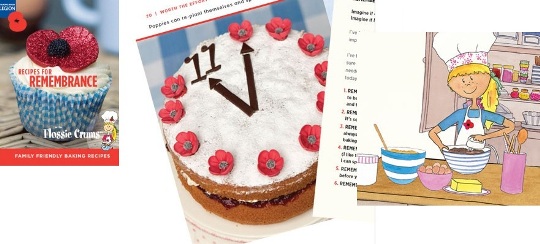 I was recently getting some poppy-related goodies from the Royal British Legion's online shop and discovered this cute little recipe book , Flossie Crums Recipes for Remembrance, which costs only £2.50. I thought, hey, I've reviewed another of the Flossie Crums' books before and found it loads of fun to do with my daughter, so why not try this one.
The book arrived in all its tiny glory – it really is a pocket-sized recipe book – and I loved most of the ideas that were inside. Bear in mind that all the recipes are about remembrance so they involve poppies or specific colours relating to the theme.
The recipes are broken down into three different categories – Easy Peasy, Not Too Tricky and Worth The Effort. The first category has three recipes and I found the mini poppy cupcakes to be an utter treat. Not only did they escape my Cupcake Curse (my inability to make decent cupcakes) but they tasted scrummy.
I wasn't that impressed with the Knickerbocker Glory to be honest. That was stretching it a bit. However, the Poppy Yum Yum Pops are too cute for words.
Next up I tried the Eleven o'Clock Remembrance Day Sponge Cake. This tasted pretty good actually, albeit a tad eggy and I wasn't a huge fan of the follow-on flavour. However, as with all recipes, this is often down to user error and I tend to err more than most.
My absolute favourite recipe is the Extra-Special Poppy Toffee Cupcakes. These taste fantastic and are to blame for my complete failure to adhere to my diet in any shape or form. In fact, my husband has banned me from making them again.
The book is great for cooking with kids and the recipes either fun or easy enough for them to enjoy. And the price isn't half bad either!