Father Christmas Needs A Wee £4.99 @ The Book People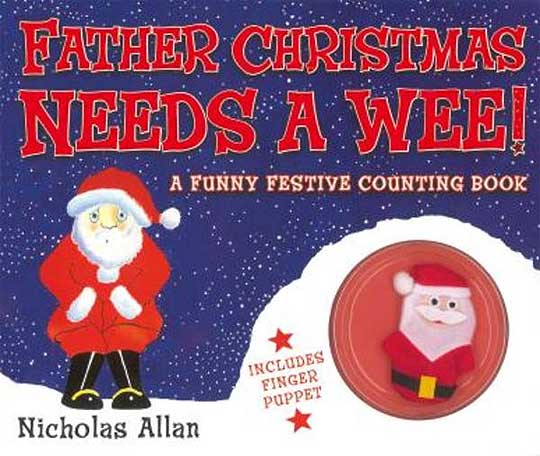 If you're after a fun festive book then look no further than Father Christmas Needs A Wee - you can pick up a copy from The Book People for £4.99 and this particular version comes with a Father Christmas finger puppet, to really bring the story to life, too.
Anything to do with underpants, wee or Father Christmas is going to be a big hit with little kids and you really can't go wrong with toilet humour, or the big guy in the red suit who comes armed with presents once a year either.
My youngest son has this book and Christmas 2012 will be his third year of laughing along hysterically at Father Christmas' misfortune in Father Christmas Needs A Wee.
The basic plot goes like this: Father Christmas is rushing to get all the pressies delivered to the right addresses (Royal Mail, take a leaf out of Father Christmas' book please; thank you!) and swigging back glasses of sherry in each house.
Before long he really needs a wee!  So he rushes through his last deliveries, DASHES home only to discover he's lost his house keys!!!!  WHAT is he going to do!?
Father Christmas Needs A Wee is a fabulous, and funny, counting book that is guaranteed to have your child laughing like a loon; it's just wonderful, you have to own a copy.
There's usually a single item delivery charge of £2.80, unless you order more to take your total over £25 and qualify for free delivery, but I've got a free delivery code for you - hurrah!  Simply enter XMAS262 into the promotion code box in your basket before you check out and the £2.80 will be waived.
Happy Christmas Reading!