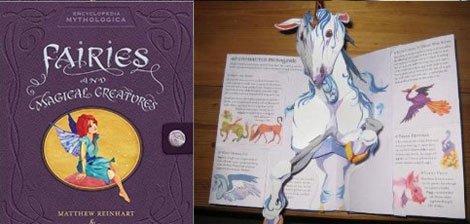 Forget my tatty old copy of Enid Blyton's Book of Fairies; I'm replacing it with this AMAZING Encyclopedia Mythologica: Fairies and Magical Creatures.
The other week I wrote about the Enclopedia Prehistorica book collection (the offer, on which, is still valid by the way) and one of our lovely readers, who bought them, got back in touch to say they really are absolutely STUNNING (thanks Rebecca).
I went to school with a girl who become a micro-paleontologist, so some girls LOVE dinosaurs, but what about the rest of us?
Fear not, this Encyclopedia Mythologica: Fairies and Magical Creatures pop-up book promises to over-deliver just as much as the dinosaur ones, and will be oooh'd and aaaahhh'd over for many years by any little girl.
To say the comments are glowing would be a huge understatement!
"In the case of books by Robert Sabuda and Matthew Reinhart, what you're seeing is more like a sculpture than a piece of card."
"The paper craft of Robert Sabuda is breathtaking and each page of this delightful book is like a little bit of magic in itself."
"Just gave a copy of this to my daughter for her birthday and sh loved it. The pop up creations jump out of the page at you, some of them creating scenes that are twice the size of the book. The most amazing for me is the fairy whose wings flap as the page is opened.
"Children seem to be careful with these books as they exude a "something special" charm."
"This book is an absolute delight. I have many books containing fairies and mythical beasts but this is the one that produced childhood delight when i opened it. A visual delight for the young and old and beautifully done. I highly recommend this book."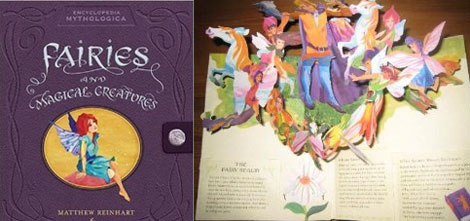 You're getting the pop-up picture here, right?
The rrp on this book is £19.99; Amazon are, at the time of writing, selling it the Encyclopedia Mythologica: Fairies and Magical Creatures books for £6.00!
For once (and I hope I'm not tempting fate here!) I won't be highly irritated if they up their price the second this is published because it's clear this book is worth every single penny of its rrp!