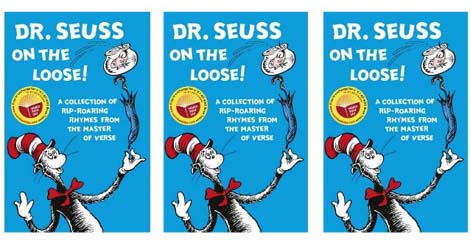 It's World Book Day today and Amazon are selling this new Dr Seuss book 'Dr Seuss on the Loose' for just £1 to celebrate.
Dr Seuss is a bit of a marmite author for parents - you either love him or you hate him.
I'm a Dr Seuss fan, my mum used to read Green Eggs and Ham and Are You My Mother? to my brother when we were kids; I loved listening in.
My youngest has just discovered the joys of Dr Seuss and is already quite a little book worm, so a copy of Dr Seuss on the Loose will be winging it's way to my house for him just as soon as I finish writing this post.
At least it will be when it's released; Dr Seuss on the Loose is a new title and currently available to pre-order so I can't really tell you much about it, other than it's a collection of rhymes written by the master of rhyming.
It does say that the publish date is today so maybe the Amazon website geeks haven't woken up yet and updated the site; either which way you can guarantee that kids will love listening to, and reading, Dr Seuss on the Loose and if you're NOT a Dr Suess fan then you're going to hate it (sorry about that, but it's not about you...it's about the kids *grin*)
Thanks to andywedge at HUKD